---
BRIEF OVERVIEW
| | |
| --- | --- |
| | A complete e-commerce set of components includes an Internet merchant account, credit card acceptance, real time processing and transaction, shopping cart, secure server and digital certificate. This complete solution could cost up to several hundreds of thousand Ringgit per year. The present cost of entry is still extremely exorbitant in most of this region. Many small to medium enterprises would not be able to afford even a partial e-commerce solution. In the US, there are many new turnkey e-solutions for e-commerce catering specifically for the small to medium enterprises with a low cost of entry. However, most of them requires the applicant to have a presence in the US (i.e., company registered in the US, possess a US Internet merchant account and/or a bank account with a US financial institution). |
NON U.S.-BASED BUSINESSES
The following are our recommended e-commerce solution providers especially for businesses without a US presence or non-US based entities:
CCNow is a well acknowledged company that offers a turnkey e-commerce solution to basically any company or individual to enter into the e-trade industry. FREE sign-up and you can set up your cyber shop that accepts credit card payment in no time. No Internet merchant account needed since CCNow acts as the middleman in transaction. Low entry risk and most appropriate for the small businesses and home businesses. The only drawback is that any sales transaction will not take effect immediately (i.e., proceeds from your sales will not register instantaneously in your bank account since you do not have an Internet merchant account). CCNow will sent you a cheque at least twice a month unless you prefer to pay CCNow a sum for a telegraphic transfer. Click on the banner above for full details or click on the text link below:
Start Selling on the Net Without Spending a Cent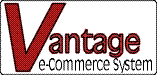 For faster processing of the proceeds from your sales into your bank account, VPay from Vantage could be your solution. Prepare to folk out around RM1,000 to start off. Then, there will be monthly charges as well as percentage charge per transaction. One of the drawbacks is that Vantage will charge you 10% of each of your total sales as commission.
U.S.-BASED BUSINESSES
Most e-commerce solutions available are 'tailored-made' for US-based businesses. There must be hundreds, if not thousands of companies providing e-commerce solutions today. However, only a handful will be worth the effort, time and money. For one of the most powerful and complete e-commerce solutions, please click on the link below:
Adgrafix/Hosting.com Full e-Commerce Solutions
---
In Association With
Copyright © and ™ 1999-2005 RichADZ All Rights Reserved